The FOXPRO HammerJack 2 is portable, lightweight, and easy to operate. It comes standard with 100 high-quality FOXPRO sounds, plus the FOXPRO FREE SOUND LIBRARY (100 sounds), and has the ability to hold up to 400 sounds. The HammerJack 2 features dual-amplified speakers to deliver incredible volume. The front horn speaker handles your coyote vocalizations and common distress sounds with ease. The rear cone speaker handles the low frequency sounds such as bear growls, owl sounds, and even mountain lion sounds. When combined, they deliver a crisp, clear, high-quality, and realistic sound. If you want even more volume, the HammerJack 2 allows you to connect two external speakers for incredible volume capabilities. It has a charge jack and auxiliary jack, and includes the FoxJack 4 with the FOXPRO Fuzzy Wuzzy topper.
The FOXPRO HammerJack 2 features an enhanced remote with an elastomeric keypad for effortless use, even with gloves. It also has category files for easy navigation through sounds. The HammerJack 2 also includes FOXBANG technology and FOXCAST. FOXCAST allows you to play a pre-set custom sequence (25 max.) to include your favorite sounds, volume levels, and even pauses. There are also up to 25 assignable "Favorites" in the "Favorites Category". The remote has a power on/off switch, volume up/down buttons. Scroll up/down, a mute, 2 assignable user buttons, and much more. All of these features in one amazing, compact, high-quality unit makes the HammerJack 2 an incredible value. It's packed with great features and innovations from FOXPRO. The HammerJack 2 is backed by a 3 year limited warranty, FOXPRO's unmatched customer support, and is proudly made in the USA!
Feature Highlights
Comes with 100 sounds, plus FOXPRO Free Sound Library (100 sounds), 400 sound capacity
FoxJack 4 decoy with Fuzzy Wuzzy Topper (included)
Category sound files
Dual-amplified speaker system
2 external speaker jacks
Runs on 8 AA Batteries and features a charge jack for using rechargeable FOXPRO NiMH batteries
Auxiliary jack
2 user buttons
USB port to reprogram sounds
Product Videos
HammerJack 2 Digital Game Call
Table showing specifications related to the game call. The features are listed vertically in the left column and the corresponding values are shown in the right column.
Dimensions
8" x 5.5" x 6"
Weight
3.50 lbs.
Speakers
Front: Horn speaker
Rear: Cone speaker
Manual Operation
No
Play Modes
Single, Jukebox, Repeat
Charge Jack
Yes
External Speaker Jack(s)
(2) 3.5mm
Auxiliary Device Jack
(1) 3.5mm
User Reprogrammable
Yes
USB Port
USB 2.0 A/B
Sound Capacity
400 (Comes with 100, plus over 100 additional sounds from FOXPRO's Free Sound Library)
Internal Memory
16GB
File Compatability
16B, MP3, WAV
Power
8 AA Batteries
Run Time
3-7 hours1
Warranty
3 Years, Limited2
Released
September 2020
TX433 Transmitter
Table showing specifications related to transmitter. The features are listed vertically in the left column and the corresponding values are shown in the right column.

| | |
| --- | --- |
| FOXBANG | Yes |
| FOXPITCH | No |
| FOXDATA | No |
| FOXMOTION | No |
| FOXCAST | Yes |
| FOXFUSION | No |
| FOXGRIP | No |
| Operating Distance | >200 yards3 |
| Dimensions | 8.5" x 3.5" x1" |
| Favorites/Presets | 2, user configurable |
| Sound List View | Categories, Sound List |
| Lanyard Loop | Yes |
| Illuminated Buttons | No |
| USB Port | No |
| Power | 9V Battery |
| Warranty | 3 years, limited2 |
FOXJACK 4 Mountable Motion Decoy
Table showing specifications related to decoy. The features are listed vertically in the left column and the corresponding values are shown in the right column.

| | |
| --- | --- |
| Topper | Fuzzy Wuzzy (rodent) |
| Dimensions | |
| Weight | |
| Connectivity | Inferface wire for connecting to the HammerJack 2 |
| Power | Supplied from game call |
| Warranty | 60 days, limited |
1 Run times vary depending upon volume level, number of speakers being used (including external), temperature, and sound density. FOXPRO recommends the use of high-capacity rechargeable NiMH batteries for the best overall performance. Please note that alkaline cells are not recommended for use in temperatures below 32°F/0°C.
2 Limited warranty does not cover damage caused by misuse, abuse, exposure to water, battery damage including leaked batteries, and all other forms of physical damage.
3 Optimal range is had by ensuring clear line-of-sight between the game call and transmitter and elevating the game call off of the ground approximately 3 feet. Your results may vary.
WARNING: This product may contain lead, a chemical known to the State of California to cause cancer and birth defects or other reproductive harm.
Reccommended Accessories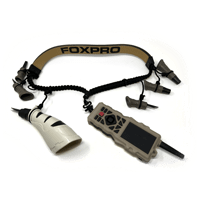 XD8 Lanyard
NEW ITEM
The XD8 Lanyard from FOXPRO keeps your favorite predator calls and remote organized and easily accessible while hunting. Attach your remote with the new hassle-free swivel connection and add up to six hand calls with the tier loop design.
$32.95USD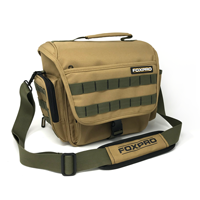 Coyote Brown Carrying Case
The FOXPRO Carry Bag is specifically designed to fit the X1, X2s, and X24 (all with mounted X-Decoy). It will also fit all other FOXPRO game calls (except all Prairie Blaster models, Shockwave, XWAVE, and all Krakatoa models).
$54.95USD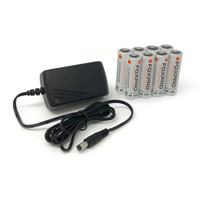 8 AA NiMH Battery Kit
For optimum performance, FOXPRO recommends the use of rechargeable batteries for powering your game calls. This kit includes 8 'AA' low-self-discharge rechargeable NiMH batteries and a standard 120VAC wall charger.
$32.95USD
User Reviews
All submitted user reviews are displayed below. Scroll down to view all. To submit your own review, please click here.
HammerJack 2
(
4 stars)
Anonymous in Kentucky on Nov 26, 2023
---
I got this two years ago for a birthday present. It's a great call and lots of success with it. Only problem is, the decoy plug broke off right after warranty. The antenna for the remote, has also broken a few times. Customer service was great and replaced the antenna. It's broken again and I'm just going to love with it. Overall, it's a good unit.
HammerJack 2
(
5 stars)
Don Bradford in Alabama on Dec 03, 2022
---
My Hammerjack 2 has been more than I expected so far, I would definitely recommend it.
HammerJack 2
(
5 stars)
Hammerjack 2 in Virginia on Mar 11, 2022
---
Works great and has good sound quality
HammerJack 2
(
5 stars)
midwesterner in Illinois on Feb 18, 2022
---
My first electronic caller. Called in 6 coyotes in my first 7 stands. I have been impressed with the battery life so far and would not hesitate to buy another one.
HammerJack 2
(
5 stars)
Justin in Oklahoma on Feb 05, 2022
---
Great easy to use sounding call
HammerJack 2
(
1 stars)
Anonymous in Unknown Location on Dec 25, 2021
---
Decoy didn't work. Took it apart to fix it and the wires fell right off have to be resoldered on. Wouldn't recommend.
HammerJack 2
(
2 stars)
James Robinson in Louisiana on Oct 21, 2021
---
I was 50 yards from it and had it on 20 and could almost not hear it.....
HammerJack 2
(
4 stars)
Anonymous in Unknown Location on May 14, 2021
---
My stepson thought it wasn't loud enough but we had 3 coyotes respond even in high wind so I'm happy.
HammerJack 2
(
5 stars)
Behr Ridge Outdoors in Pacific Northwest USA on Apr 24, 2021
---
I love the digital screens and simple organized categories to find specific calls. I loaded 100 Foxpro calls that I thought I'd need this year. The sound quality and easy of use keeps me coming back, as this is my 2nd call. While making coyotes videos, a reliable call is so important. Way to go Foxpro!!
HammerJack 2
(
5 stars)
Vince Martinez in Arizona on Apr 06, 2021
---
This call is simple to use and the sounds are next leave!! I highly recommend Fox pro Gabes calls.
HammerJack 2
(
5 stars)
Tommy Fields in Texas on Mar 27, 2021
---
Awesome call. Super loud and very effective. Called in multiple animals on our first outing. Can't wait to hey back out and see what happens next.
HammerJack 2
(
5 stars)
Jimmie Dubre in Southern Kentucky on Mar 14, 2021
---
I absolutely love the call and the amazing quality and super simple remote. I would love to set up my foxbang option
HammerJack 2
(
4 stars)
DeAngelo in North Carolina on Feb 25, 2021
---
This is a great product!!!! The only reason I didn't give 5star is the volume is not very loud. I upgraded to the HammerJack2 from the LuckyDuck Rebel which was $150 and it was louder than the Hammerjack2 at $350. Anyway 1st time out with the Hammerjack2 i called in a Bobcat.
HammerJack 2
(
1 stars)
Anonymous in Reno NV on Feb 19, 2021
---
Purchased and compared to a fox pro fx3 and and the fx3 was louder and is 15 years older than the hammer jack 2. I returned the call back and bought a shockwave.
HammerJack 2
(
4 stars)
Scott in Mid Missouri on Feb 06, 2021
---
Good unit! Had 0 problems with it this past weekend for a predator tournament. Good range once you extend remote antenna. Not quite as loud as I had hoped it would be.
HammerJack 2
(
5 stars)
Robert Reddinger in Leechburg, PA on Jan 25, 2021
---
This unit replaced my Wildfire 2. Other than the volume not being any higher (the sound quality is better though), I'm glad I bought the Hammerjack 2! The TX433 transmitter is much more user friendly than the TX9. Easier to navigate and much easier to see. The attached decoy is a really nice feature although it is a tight fit putting it in my old Foxpro carrying case. Highly recommend the Hammerjack 2!!
HammerJack 2
(
5 stars)
Anonymous in Unknown Location on Dec 31, 2020
---
HammerJack 2
(
3 stars)
Anonymous in New York on Dec 01, 2020
---
I bought this to control the coyote population in our area. The sounds are great when you can hear them. How do you make a call and charge $350 you can't hear from 100 yards away. I guess it's Foxpro's way of getting more money out of you. If you want to be successful with this caller you need to buy the speakers.