The FOXPRO X1 is a powerful and compact unit that features a positional Xtreme High Definition (XHD) speaker. The XHD speaker is a horn speaker with an added tweeter for improved frequency response. The XHD speaker system allows for extreme volume capabilities and realistic sound clarity. The X1's handle folds out into a positional stand to provide elevation over various terrains that you might encounter. There is 1 external speaker jack if you desire even more volume, an auxiliary jack to connect an approved device such as a Jack Predator Decoy, and a charge jack. The X1 comes with 100 high-quality FOXPRO sounds and over 100 sounds from FOXPRO's Free Sound Library, with the ability to store and access up to 300 sounds. The X1 comes complete with a lithium battery and charger kit in the box! The FOXPRO X1 features an enhanced remote with an elastomeric keypad for effortless use, even with gloves. It also has category files for easy navigation through sounds. The remote has a power on/off switch, volume up/down buttons. Scroll up/down, a mute, and much more. The X1 is backed by a 5 year limited warranty and FOXPRO's unmatched customer support and is proudly made in the USA.
What's in the box?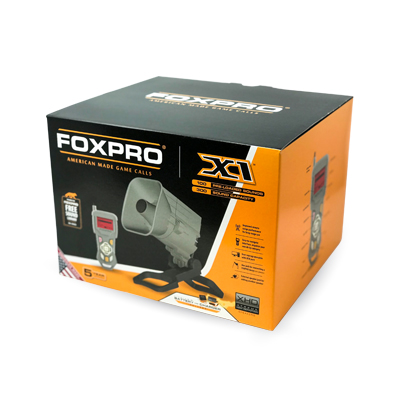 X1 Digital Game Call
Dimensions
8.25" x 11.5" x 10.5"
Weight
5.00 lbs.
Speakers
(1) Horn speaker
(1) Tweeter
Manual Operation
No
Play Modes
Single, Jukebox, Repeat
Charge Jack
Yes
External Speaker Jack(s)
(1) 3.5mm
Auxiliary Device Jack
(1) 3.5mm
User Reprogrammable
Yes
USB Port
USB 2.0 A/B
Sound Capacity
300 (Comes with 100, plus over 100 additional sounds from FOXPRO's Free Sound Library)
Internal Memory
8GB
File Compatability
16B, FXP, MP3, WAV
Power
(lithium kit included)
Run Time
3-7 hours1
Warranty
5 Years, Limited2
Released
September 2019
TX433 Transmitter
| | |
| --- | --- |
| | No |
| | No |
| | No |
| | No |
| | No |
| | No |
| | No |
| Operating Distance | >200 yards under ideal conditions3 |
| Dimensions | 8.5" x 3.5" x1" |
| Favorites/Presets | 10, user configurable |
| Sound List View | Categories, Sound List |
| Lanyard Loop | Yes |
| Illuminated Buttons | No |
| USB Port | No |
| Power | 9V Battery |
| Warranty | 5 Years, Limited2 |
1 Run times vary depending upon volume level, number of speakers being used (including external), temperature, and sound density. FOXPRO recommends the use of a high-capacity rechargeable lithium battery pack (included with this item) for the best overall performance. Please note that alkaline cells are not recommended for use in temperatures below 32°F/0°C.
2 Limited warranty does not cover damage caused by misuse, abuse, exposure to water, battery damage including leaked batteries, and all other forms of physical damage.
3 Optimal range is had by ensuring clear line-of-sight between the game call and transmitter and elevating the game call off of the ground approximately 3 feet. Your results may vary.
WARNING: This product may contain lead, a chemical known to the State of California to cause cancer and birth defects or other reproductive harm.
Reccommended Accessories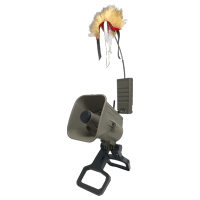 XDECOY
NEW ITEM
IMPORTANT NOTE Please note that you are purchasing only the decoy. The image shown with the Game Call is used only for reference of how the decoy mounts to the X-Series Game Calls.
$98.95USD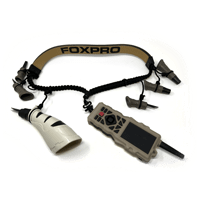 XD8 Lanyard
NEW ITEM
The XD8 Lanyard from FOXPRO keeps your favorite predator calls and remote organized and easily accessible while hunting. Attach your remote with the new hassle-free swivel connection and add up to six hand calls with the tier loop design.
$32.95USD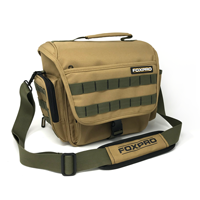 Coyote Brown Carrying Case
The FOXPRO Carry Bag is specifically designed to fit the X1, X2s, and X24 (all with mounted X-Decoy). It will also fit all other FOXPRO game calls (except all Prairie Blaster models, Shockwave, XWAVE, and all Krakatoa models).
$54.95USD
User Reviews
All submitted user reviews are displayed below. Scroll down to view all. To submit your own review, please click here.
X1
(
5 stars)
Clayton Webb in Muskogee Oklahoma on Mar 19, 2022
---
FoxPro is a Great Company, they stand behind their callers!! They have a Speedy turn around if any repairs are ever need! I highly recommend FoxPro to anyone looking to get a electronic caller! You will not be dissatisfied!
X1
(
2 stars)
B. Herring in Texas on Mar 07, 2022
---
This call would be a 5 Star Call if the remote was a TX915 or better quality!!!!
X1
(
3 stars)
Anonymous in Arkansas known Location on Feb 28, 2022
---
The Antenna will bend when you try to push it back in, when you are hunting in cold weather! Poor Quality!
X1
(
5 stars)
Anonymous in Northeast USA on Feb 27, 2022
---
No comments to share.
X1
(
4 stars)
Anonymous in Unknown Location on Mar 07, 2021
---
No comments to share.
X1
(
4 stars)
Eli Gulledge in Chesterfield SC on Feb 27, 2021
---
Sounded great easy to operate but had to exchange the second day I had it used it one time and it quit working after about an hour of use
X1
(
4 stars)
Paulee Newton in Alaska on Feb 25, 2021
---
Love it so far. Used it in -40 degree weather for days and have never had a problem with it. Super reliable with a long lasting battery.
X1
(
4 stars)
Eric in Illinois on Feb 22, 2021
---
I love the only thing bad I can say is I wish it was a little louder and the remote lite up so you can see the button at night
X1
(
4 stars)
Tim in North Dakota on Dec 22, 2020
---
Overall I am very pleased with the X1 caller. The only reason for a 4 star is that the first unit I ordered did not work out of the box. I called Foxpro and they had a new one shipped out to me that same day. Great customer service. As for the performance of the X1 it works great in the windy ND weather. First hunt with it I called in 3 coyotes in 5 stands. The volume is loud enough for wide open terrain and windy days. I am very pleased with it so far.
X1
(
5 stars)
David K Franks in Southern New Mexico on Feb 10, 2020
---
X-1 Great product! Sound and clarity are excellent Went out three times and and called in sixteen coyotes and shot eight ... only complaint is the screen on the remote could be a tad larger, difficult for old eyes to see
X1
(
5 stars)
Jake in Oklahoma on Jan 26, 2020
---
Used the call for the first time yesterday and it worked great. Awesome in windy conditions being able to turn the call up all the way and have zero distortion. Can't say enough about the Foxpro customer service (Guy is who helped me).
Successfully added to cart!