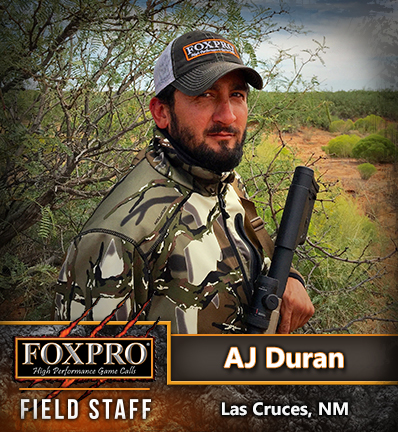 Growing up in rural New Mexico, AJ was always in the outdoors. He was either fishing with his grandfather or hunting with his father. He became hooked on coyote hunting at the young age of 16. At the local video store in town, he watched every VHS he could find on hunting. The last one on the shelf was on coyote hunting. That very next morning he went out with his deer rifle and elk diaphragm call and gave it a try. On his first stand, he called in two dogs and got them both. From that moment, he was hooked. In 2007 A.J. purchased the FX3, his numbers easily multiplied with this purchase. This unit is still operational and used today. Since then he has purchased multiple FOXPRO calls which include: FX5, CS-24, Shockwave and is now utilizing the CS-24C.
At the age of 20, he enlisted in the United States Air Force. He took advantage of being in the military and the locations he was in as he was able to hunt coyotes and other animals in multiple states (AZ, NM, CO, TX, UT, NV, WY, SD, ND and ID). He has also had the opportunity to call predators in the countries of Romania, Kuwait, and Iraq. This has allowed him to learn different habits and tactics based on the environment. A.J. was in the military for 15 years. During these years his primary job was a Combat Tactical Instructor. He did multiple deployments to hostile countries and would go back to defend this great country.
Seven years ago, he began hunting coyotes competitively. With his stepfather's help, they placed 8th (2009), 3rd (2010) and 1st Father/Son Team (2011) in the World Coyote Calling Championships. AJ also won the 2014-2015 New Mexico Desert Dog Circuit Championship.
"Defended this country and will only use calls made in this great country."