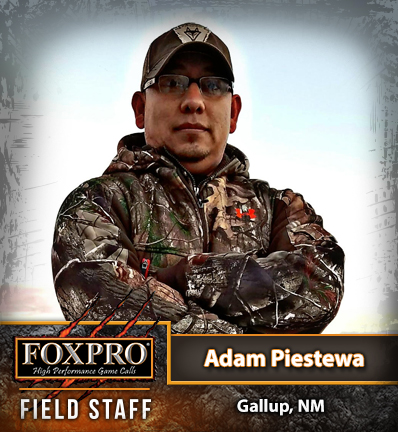 Adam Piestewa was born and raised on the Navajo reservation in Northern Arizona. For Adam, hunting started when he was 12 years old. His dad took him on his first mule deer hunt. From that point on, there wasn't a time of day that you couldn't find Adam out in the field with his trusty BB gun that later transitioned into a 22 rim fire. Besides sports, all of his free time went to hunting.
After attending college in 1999 Adam moved to New Mexico where his passion for the outdoors grew with his introduction to archery hunting. He then began to compete and place in numerous 3D archery competitions in his area. With bow in hand, Adam became very successful in harvesting mule deer, antelope, elk, and turkeys. Adam found there was no bigger thrill than calling in his prey. Adam along with his son George have competed and placed in several elk calling events.
In 2003, Adam was introduced to the sport of predator calling and hunting by a great friend. Getting started with only hand calls, Adam instantly became addicted to this sport and has found a passion that would become his way of life. After completing his first season of calling in predators, Adam was able to purchase the FX3 FOXPRO caller. The challenge of predator calling has always been the best aspect of the sport. Now with such an outstanding piece of equipment, the odds had instantly shifted to his side. That season he had heard about a local "calling competition\" and decided to enter. Once Adam discovered "calling competitions", that was it. He competed in his first competition and won. With this victory in hand, he has continued to be successful in numerous calling contests. Adam has gone on to place in the World Coyote Calling Championship three times.
Adam has continued his love of hunting by passing it on to his three children. One of Adams biggest joys is being able to have his family and friends along with him on many of his hunting adventures. Adam with his family have captured many of their hunting trips on film. He enjoys editing and sharing his family's hunts with all. He hopes that by sharing his family's hunting adventures, it will show the sport he loves in a positive light. One that shows hunting as a family tradition and way of life to be passed on from generation to generation.