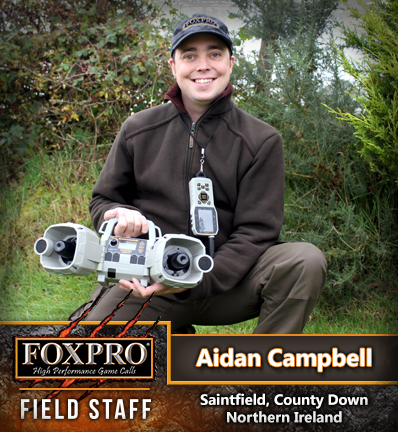 Aidan has been hunting and fishing since he was 16 years old. Whilst he always enjoyed hunting it wasn't until 2010 that the hunting bug really got him. His passion for hunting was ignited during the transition from recreational hunting to vermin control for local farmers and landowners.
Aidan was asked to help control rabbits on local golf courses and he was a product of his own success. His professionalism and services were soon in demand from local farmers who were having vermin control issues. He was approached by a number of sheep and poultry farmers who were losing livestock and this was having a detrimental impact on their livelihoods. He turned his focus to control of red foxes for those farmers and did so with great success.
Aidan developed a comprehensive knowledge of his target species while using only hand calls and squeakers from dog toys. Some of fox that Aidan harvest are collected by the Department of Agriculture and Rural Development and contribute to their ongoing research programs at various times of the year.
In a bid to move his hunting to the next level Aidan spent a considerable amount of time researching electronic callers and finally decided that FOXPRO products were right for him. This decision was based on the reviews of fellow users, superior built quality, the range of features and the range of accessories to compliment the FOXPRO callers.
Aidan says "The FOXPRO is packed with fantastic features but I particularly like the fox motion. The ability to replicate an animal's movement in the call always produces great results. The red fox seem unable to resist. You can tell the product has been designed for hunters by hunters."
When Aidan was offered the opportunity to become a FOXPRO Field Staff he was delighted. It is not only an affiliation with the market leaders in electronic game callers that excites him but offers an opportunity to share his passion for hunting.