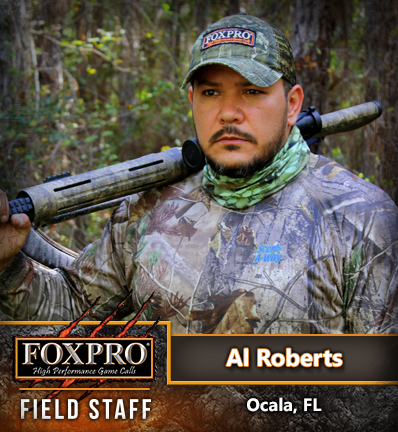 I grew up in central Florida where as a child I had a huge fascination with hunting. Unfortunately with no hunters in my family I did what I had to do to learn this interest in hunting. So the majority of my early hunting career consisted of hours after hours of reading books magazines and that occasional outdoor show on television. Growing up on the edge of the national forest I completely immersed myself in learning the woods and animals of the swamps and pine forests here in Florida instead of what most 13 and 14 year olds were doing like playing baseball or football I was watching deer from trees, or trying to call in turkeys or catch big gators. If you wanted to find me the woods was where I was.
Directly after high school I enlisted and went into the United States Marine Corps where every year id save my entire leave for the year so that I could take the time off to come back to the states and hunt.
After the Marines I wasn't married had no children so I did what any man completely ate up with hunting in the prime of his life does and headed for the mountains! I spent seven years as a hunting guide chasing the endless season. I'd leave for the Rockies in august stay for the season and leave the elk hunting around thanks giving time heading home guiding in different states along the way home where when I got back in the spring I would guide Osceola turkey hunters and started an outfitting business (Gator Country Trappers and Outfitters).
After becoming married and my wife giving birth to my daughter it was time for a real job so I went to work as a manufacturer's representative for some of the biggest names in the outdoor business. While doing that I got involved in the TV aspect of the hunting industry and have appeared on lots of shows along with producing shows as well as jumping on camera and shooting them behind it.
My whole life I've messed with alligators and in 2008 I became the Marion County Nuisance Alligator trapper for the Florida Fish and Wildlife commission.
And during the whole time I've been hunting i got really into the Predator hunting thing and learned great techniques that I could apply everywhere from the hills of Montana to the peanut fields of south Georgia!
About 6 years ago my great friend Fred Eichler turned me on to FoxPro calls and my life has been revitalized again by the calls! All the years of calling predators in with mouth calls became a thing of the past! While I still use mouth calls the FoxPro has made my life ten times more action packed!
I chase predators year round! And I catch a couple hundred alligators a yr and I could not be as successful as I am without FoxPro. It's an honor and a privilege to work with a company that I entrust my success and the success of my livelihood to! And with 26 years under my belt I'm a pretty good barometer of excellence and that's what FoxPro brings to the table.