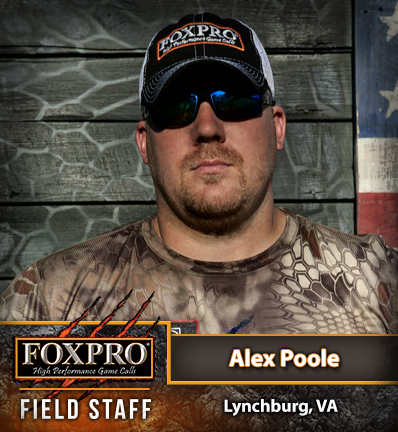 Alex Poole was born and raised on the outskirts of Lynchburg, VA. He spent his early years following his dad around the foothills of the Blue Ridge Mountains. He started small game hunting when he was 5, and graduated to big game when he killed his first deer at the age of 11. Alex would discover predator hunting at the age of 15 when he got a hand call from a local sporting goods store.
With his brother holding a Maglite with the lens colored red with a Sharpie, he called in his first Grey fox that night.
These days Alex has upgraded from a Maglite and is using night vision and thermal to chase predators. Predator hunting has gone from a hobby, to a passion, and from a passion, to a way of life. He has put big game hunting on the back burner and hunts coyotes all year. Along with his hunting partners Kyle Crickenberger and Benton Bowman, Alex has developed a reputation in Virginia for killing coyotes and they are contacted on a regular basis to kill problem coyotes across the state.
Alex has been using Foxpro products since the FX3 released. Alex says "The sound quality and clarity from my Foxpro\'s are unmatched." Alex uses a CS24c now and also shares his calling time with a Shockwave. He goes on to say, "The options that the Foxpro calls and remotes have is awesome. Between Foxfusion, Foxdata, Foxbang and all the other features of the calls, I can manipulate my call sequences to fool even the most educated predator. And I am proud to represent the best call maker on the market."
Alex, along with Kyle and Benton, also film their night hunting adventures with a night vision camera. You can check out their Foxpro fueled night hunting adventures on their Youtube channel "Predator Life".