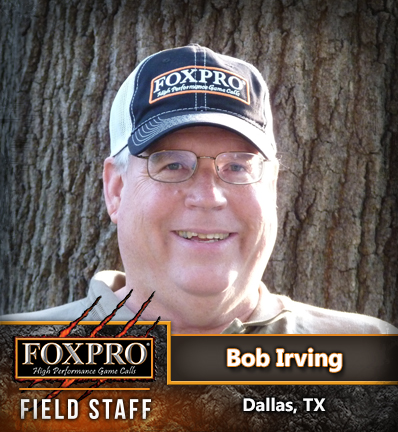 Bob grew up in western Indiana hunting groundhogs and fishing for bass and panfish from an early age. In those years, crows were not as numerous in the area but they would respond to his questionable mouth calling and the old timey paper March decoys that he employed as a schoolboy over a Winchester Model 12 in 20 gauge. An early adopter of technology, he used a 45RPM record of crow sounds to bring in his favorite quarry. He attended and graduated from Indiana State University with a basketball legend Larry Bird before moving to Texas in 1977 to start a career in accounting and marry his college sweetheart. Thirty plus years later with 3 grown kids, he is still happily married to the same wonderful gal and works for the same company!
Bob enjoys chasing varmints, target shooting competition and tennis. He has cultivated many wonderful friendships with local farmers, orchard men and ranchers through his varmint control efforts as the founder of the "Texas Crow Patrol". He gained the nickname "Gadget Bob" from good friend he shot sporting clays tournaments with for many years, as Bob was known to invest in any "gadget" that might improve his scoring. He takes that same approach with crow hunting using innovations such as "Hot Sticks" for decoy placement, mirrored blinds, suppressors, gun-mounted HD quality cameras, portable turntables for 360 degree calling, a variety of crow decoys, including "flappers and spinners" and, of course, state of the art FOXPRO ecallers to fool the wary crow.
Fast forward from his days of using a vinyl 45 RPM crow calling record to 15 years ago when he discovered the flexibility, reliability and sheer volume of sound available from FOXPRO callers his success on crows improved exponentially! Bob uses his powerful Super Snow Crow Pro to bring in crows from very long distances. He also enjoys calling in "fur" to spice up his crow hunts and, in particular, calling raccoons that abound throughout Texas. They come in fast when using the FOXPRO "Raccoon Fight" sound and orchardmen appreciate gaining some measure of control over them.
He holds a Bachelor of Science in Accounting from Indiana State University and has been a licensed CPA in Texas since 1982. He belongs to many related professional organizations including the American Institute of Certified Public Accountants. Today on his full time job, he leads a team of Customer Success Managers across the US for Fortune 500 corporate tax automation tools for the global leader in information & automated solutions for accounting, tax and legal needs headquartered in Carrollton, TX.
In additional to that role, he also is an experienced Pro Staffer for Hornady, Mossy Oak and Tactical Solutions. He delivers reloading seminars and other hunting related presentations on crows, hogs and other varmints at Cabela's and Bass Pro Shops throughout Texas as well as national events such as the NRA Annual Meetings. He is also a Life Member of the National Rifle Association, Texas State Rifle Association, the United States Practical Pistol Shooting Association and the Glock Sport Shooting Foundation along with maintaining annual memberships in the Dallas Pistol Club, the Terrell Rifle and Pistol Club, and Crow Busters. When not hunting, he frequently competes in Dallas area matches with rifles, shotguns and pistols.
Bob is delighted to be a member of the FOXPRO Field Staff to share his love of the outdoors and varmint hunting. He refers to FOXPRO callers as the "fun multiplier" and strongly recommends them to all hunters to expand their hunting options and improve their success afield.