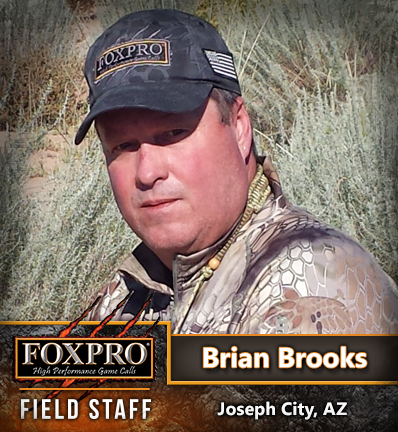 Brian was introduced to hunting at the early age of 8 by his uncle when he went on his first deer hunt. The outdoors seemed to draw him in and as he got older hunting, hiking, and camping became his favorite activities. Growing up in the great Pacific Northwest of Washington state he would spend his free time hunting deer, elk, upland birds, and waterfowl. In 1991 he moved to Arizona where he was first introduced to predator hunting. He continued to pursue big game and upland birds while occasionally hunting predators and running hounds for bear and lion. It wasn't until 2005 that Brian became serious about predator hunting. Since that time he has been an avid predator hunter often traveling to the far corners of Arizona and neighboring states in search of "the greatest stand". His passion for predator hunting continued to grow stronger leading him to hunt his first predator contest in 2010. Brian and his teammate placed 5th in that first contest and he quickly became hooked on the challenge of contest hunting.
Brian's passion for contest hunting led him to help organize and put on a local contest which grew in size each year eventually becoming what is now the Arizona Coyote Calling Championships. Brian is married to the love of his life, Laura, who despite often referring to herself as a hunting season widow supports him in his hunting adventures. Laura along with the oldest kids of their seven children have been a great help in putting on the ACCC. The Brooks family has been blessed to host fellow hunters from all across the US as well as Australia and Scotland.
Brian has shared his love of the outdoors with his kids and they too have started down the road to being avid predator hunters with even the younger ones always asking to tag along. He shares that love of predator hunting with anyone that shows an interest often offering to take new hunters out to share his love and knowledge of the sport and what Brian refers to as "the best products money can buy, Foxpro."