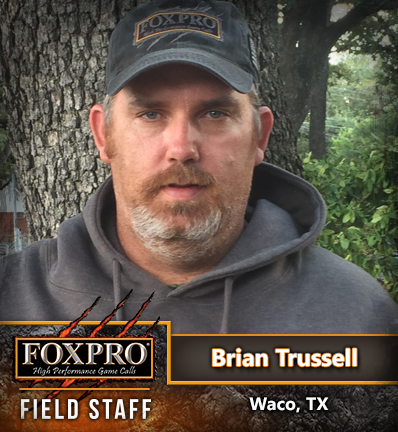 Brian Trussell was born and raised in Central Texas. He currently resides in Waco, Texas with his wife Valetta and two sons. As a young boy Brian grew up chasing whitetails and varmints with his father over most of the Hill country of West Texas. Brian killed his first gray fox at the age of 8 that his father called in while night calling. Calling predators from an early age has been a way of life and tradition passed down through the family. At the age of 16, Brian began to call by himself and can remember the first night by myself and a buddy calling in 52 animals that night. I was so excited to see all the animals coming into a call that I was actually blowing. After that night and the excitement that went with it I knew I would be hooked for life. At 18 years old, Brian developed his own light with a car rheostat, to be able to dim the light down for night calling which he still has. Being from Texas where most of the ranches are huge has offered me the chance to call miles of land that hold unbelievable numbers of animals and also offer a large number of different predators.
Brian has dedicated most of his life traveling all over the state and many other states to call predators which has given him the experience to become a successful predator hunter. This also includes several state championships and many other tournaments and contest wins.
Brian still enjoys taking his father Roy and two sons Braden and Brason calling to enjoy what he was taught at such a young age. I have always believed that taking your family and especially your children hunting will always ensure they understand what God has created. My favorite saying to hunters is "take your children hunting early in life so you don't have to worry about them as much later in life."
In 2000 Brian used his first FOXPRO and knew this was going to be a new chapter in his calling arsenal. The FOXPRO allowed me to get away from the caller so the animals wouldn't be focused directly on me. Brian is currently running a Shockwave and also takes a Krakatoa II to West Texas when calling in high winds. I am very honored to be part of the FOXPRO family, which is the leader in predator calls.