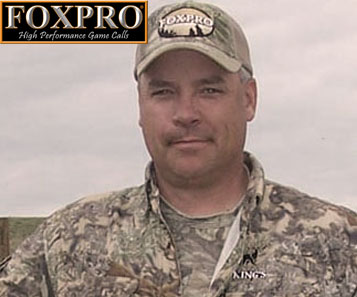 Cal Taylor has been hunting big game and predators for most of his 39 years. "I feel fortunate to have grown up in the western U.S. and being around and involved in hunting my whole life." Cal is a big game outfitter, and guides big game hunts every fall in Wyoming.
Also an avid predator hunter, he has been employed by various county predator boards and private ranches as a coyote hunter/trapper/denner. "I feel fortunate to have learned from some of the best ADC men in the nation." "I started out by being around several local Government trappers and developed a keen interest in coyote hunting and trapping."
Later, Cal moved to southern Utah and became friends with a State employed trapper named John Swain. "That guy in particular probably taught me more about coyotes than anyone". I felt fortunate to develop that friendship, because most ADC men with alot of experience are very guarded in their techniques". Since then Cal has been around many other good ADC trappers and the learning continues.
Cal has also been involved in several other venues of predator hunting. He is currently involved in a video project with Murphy Love, has been featured hunting with Jerry Martin on BassPro's Outdoor World television show, and competes in some regional and national coyote hunts. Last year placing 3rd at the Campbell county hunt with Murphy and winning 4th at the National Coyote Calling contest at Rawlins, WY with partner Cenny Burnell. Both of these contests have 70 to 100 teams and feature some of the best predator hunters in the west.
"If I didn't feel that FOXPRO was the best product out there, I wouldn't be comfortable being on their Field Staff." "It has it all, size, ease of use, and volume, and they are working on building the best sound library available. What more could you want?"