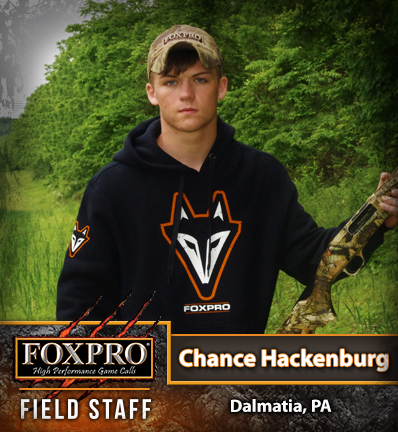 Chance Hackenburg was born and raised in Pennsylvania; with hunting being a tradition in his family he has always had a love for the outdoors. No matter the weather or time of year, Chance is always trying to harvest game in his home state. Chance started hunting at the young age of seven years old under the Pennsylvania youth mentor program.
Scoring a Pennsylvania triple trophy at age fifteen and topping it off with a Pennsylvania elk harvest has set a standard for his future. Chance enjoys hunting for whitetail deer, black bear, elk, waterfowl, small game, predators, and any other game that can give an adrenaline rush that hunters love. His real passion however, is turkey hunting. "Every time that turkey fires off a gobble on the limb it gets my heart pumping!" Chance has harvested multiple turkeys in his nine years of hunting and counts down the days to the start of each new season.
When Chance isn't out hunting, he is active in his community, and plays multiple high school sports. He also enjoys fishing, hiking, and kayaking. Chance gives his thanks to God and family for their support that has helped him become a successful hunter.
Over the years, Chance has always tried to improve his hunting skills by continuously trying different methods, gear, and especially calls. This led him to another one of his passions which is competitive turkey calling.
Chance first met the FoxPro crew at the NWTF convention in Nashville TN where he competed in the Grand National Turkey Calling Competition placing fifth in 2016. After sharing multiple hunting stories with the crew, he tried the new calls on display and was very impressed. Shortly thereafter Chance was honored to become a new member of the FoxPro family and is excited to put FoxPro turkey calls to use both on the stage and in the field.