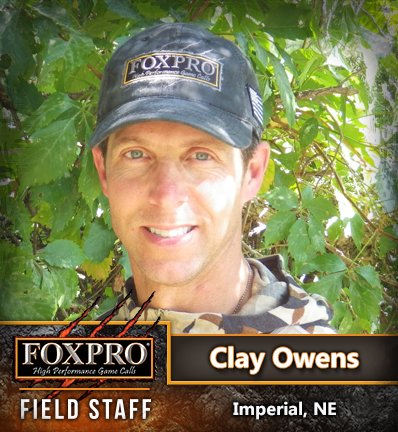 Clay Owens of Imperial Nebraska is a long time professional hunting guide specializing in elk and predator calling. He has spent countless days in the field helping hunters of all ages get critters in close.
In the mid 80s he picked up his first elk call and started calling in elk...it did not take long and he had his first bull elk in bow range and he was hooked. In his opinion "there is nothing more fun than calling in a screaming bull elk or tricking the trickiest coyote and seeing the look on its face when they realize they have been fooled."
Clay, a Colorado native has successfully managed some of the finest elk hunting destinations in the state over the past 15 years. He helped clients harvest bulls of all sizes as well as called in mule deer bucks, coyotes and used hounds to catch mountain lions. A recent transplant to Nebraska he owns and operates Prairie Ghost Outfitter specializing in mule deer hunts and predator hunts.
He has top ten finishes in the World Coyote Calling Championships as well as the Mid-West Coyote Calling Event and multiple wins in small local contests in Colorado and Nebraska.
His favorite coyote hunts are the ones with his wife and kids along sharing the experience!!