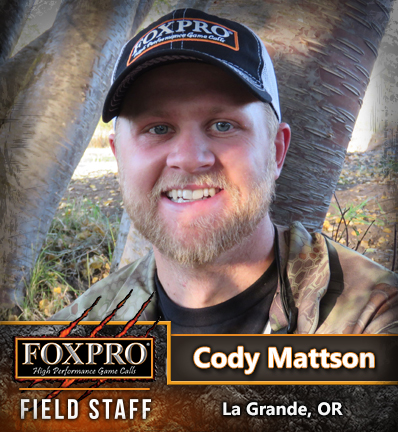 Cody Mattson was born into an avid hunting family in Northeastern Oregon and was raised to love the sport. As a young boy, he shadowed his father in the outdoors packing his .22 bolt-action rifle while learning all that he could about the great outdoors and hunting. From elk and deer hunts in the fall, to trapping and hunting bobcats and coyotes in the winter, and calling turkeys in the spring, Cody loved it all! He even spent the summer months scouting for the upcoming seasons. Up until the age of 16, Cody spent his time hunting with his father and grandfather harvesting a number of animals and can thank them for continually feeding his hunting addiction. His family has been the largest influence and biggest support when it comes to his passion for hunting.
Later in his teenage years, Cody started hunting with his close friends where he fell in love with predator hunting and calling coyotes. On his 17th birthday, he and a couple friends skipped a day of school for a coyote hunt where they harvested three coyotes. This is where it all began! Since then they founded the group "Coyote Control Specialists", and started filming each and every adventure while out hunting. After harvesting forty coyotes their first season filming, Cody and the group decided to share their hunting videos with the world on YouTube. It did not take long before their popularity grew and they extended their videos to all hunting seasons.
FoxPro has played a huge role in the success of the Coyote Control Specialist's predator hunts throughout the past years. One of Cody's most memorable coyote calling experiences happened on what the group calls Triple Dog Flat where they took Cody's father out after 4 inches of fresh snow had just fallen. "We snuck up on the hillside overlooking a large bowl. We set up the FoxPro and within 30 seconds had 3 coyotes running in, coming within 30 yards of us. To our surprise, another 3 were coming in just behind them." Because of a jam in one of their shotguns, Cody and the crew were only able to harvest one of those but were amazed by the amount of coyotes the FoxPro called in. Having experienced the amazing success of FoxPro predator hunting products, Cody looks forward to calling in coyotes with the help of FoxPro in his future hunts.