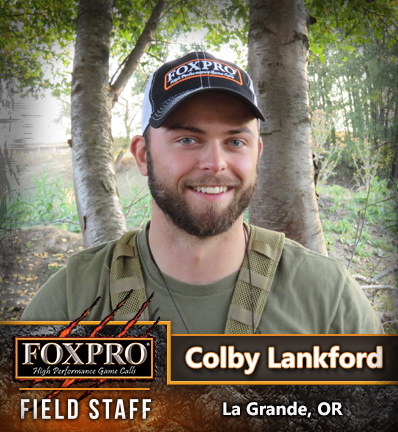 Colby Lankford was born and raised in Eastern Oregon where he currently resides. He was born to hunt, but is forced to work on the weekdays to help fuel his obsession for the outdoors on the weekends. Hunting has always been a family past time, but his father Craig introduced him to the sport of predator calling at the age of 9. It didn't start out as all fun, hand-me-down camouflage plus extreme freezing temps equaled one frustrated kid. Over the years he began to appreciate the sport more and more due to the unpredictable results with each stand, and the adrenaline rush each and every time he sees a coyote or hears someone whispering "Coyote, Coyote!"
At the age of 18 he created a hunting group known as "Coyote Control Specialists". This group started as a couple clueless teenagers who hunted almost every second possible, filming every step of the way. Dedication and persistence turned this group into a successful organization, backed by several big name outdoor companies. The CCS Boys are well known for their suspenseful YouTube videos featuring coyote hunts, but also Rocky Mountain Elk, White Tail, Mule Deer, Black Bear, and about every legal game animal found in Oregon.
To Colby, predator hunting is more than the thrill, or the kill. It's about the memories made while spending time with family and friends. "Hunting solo has never been my thing, so when my hunting buddies can't tag along I find someone new, and introduce them to the sport. I will admit it though, it's very tough watching the coyote run away, but it reminds me how my dad must have felt each and every time I missed...which was quite frequent."
At the age of 18 Colby received a FoxPro Spitfire as a Christmas gift from his parents. After harvesting 3 coyotes on his first trip using the Spitfire he quickly saved up enough money to purchase the Firestorm, which he still uses 6 years later. "I have been downright brutal to my Firestorm. I have literally played catch with it on stand to change the batteries, dropped it off of bluffs, left it in freezing temperatures over night sitting in snow, and haven't had it fail on me. My father's first FoxPro is still going strong 10 years later, he refuses to upgrade to a new caller because he has had so much success with that one call, and zero problems. Over the years Colby has used several different types of E-Callers, but admits that there is nothing that compares to the quality, ingenuity, reliability, and customer service of FoxPro. This has been a dream of his for several years, and is very excited to be a part of such a great organization representing the leading name in the Predator Industry!