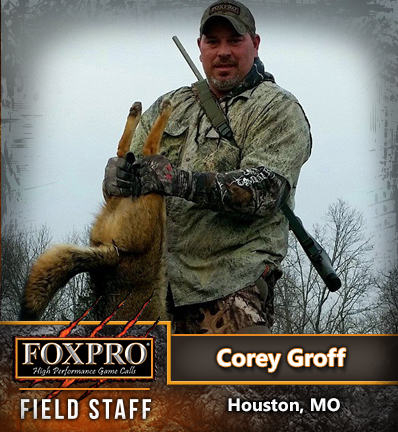 Corey Groff grew up in Southern Missouri. He currently resides in Houston, Missouri with his wife Stephanie and two children. As a young boy Corey developed a love for the outdoors, taking his first whitetail at the age of 8. Being an avid hunter, hunting whitetail, turkey, predators and other game has just been a way of life. At the age of 14 Corey received his first closed reed hand call. "I can remember the first coyote I called in. I was so shocked at the charge and excitement of the coyote coming to the call, I couldn't even pull the trigger on my rifle." After that experience there was no holding him back. Like most hunters at this time, he was looking for an easier way of calling in predators. Corey put together his own electronic call out of an old car stereo, lawnmower battery, and 2 speakers in a plywood box.Â
Being from the Midwest and in tough calling conditions, Corey set out to be a better predator caller. The rough hills and briar covered bottoms of Missouri were a tough place to learn. He dedicated long hours and hard work to the sport, competing in several contest hunts a year and traveling to several states. Corey has become a successful predator hunter because of this.
Corey enjoys taking his young son Braedin on a lot of his hunting trips. Braedin is a young man with a strong passion for turkey hunting as well as predator hunting. "We absolutely have a blast turkey hunting together, there is no other person I would want to spend a turkey hunt with. You can bet when spring is here him and I will be turning the heat on some birds." Along with filming their own hunts at a small level, Corey has started the Coyote Commander series of videos on YouTube and Facebook. He also writes several hunting stories for Missouri Hunters Journal.Â
In 2009 he used his first Foxpro, which was his friend's FX5.  Since then, Corey has purchased a few of his own FoxPro calls and currently is running the Shockwave. He is very proud and honored to be a part of the FoxPro family and eager to help out an already successful, winning team.