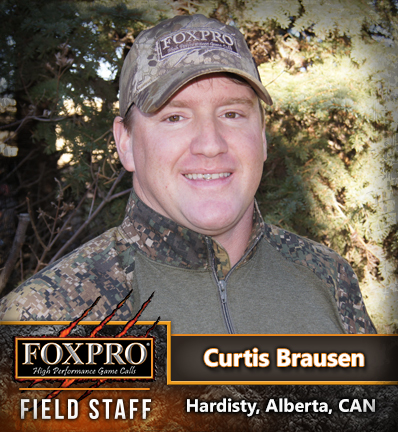 Curtis Brausen is from the rolling hills of Hardisty, Alberta, Canada. He was introduced to hunting by his father and will carry on the tradition by involving his children as well. Growing up in rural Alberta offered him every opportunity to experience the outdoors first hand and hunting was a right of passage.
Curtis lives for varmint hunting and loves nothing better than a stand that provides multiple coyotes. East Central Alberta offers a plethora of hunting opportunities such as White Tail and Mule Deer hunting as well as Moose, Elk, Waterfowl, and of course coyotes. Curtis participates in all game activities and loves the opportunity to hunt. Varmint hunting provides him with an opportunity to hunt all year long.
In the last few years Curtis and his Uncle Rob have made coyote calling a passion, some might even call it an obsession. Every free weekend is spent calling coyotes and refining their set-up skills. Both became involved with long range shooting just to refine their skills for those long shots on coyotes that the prairies provide.
Curtis has a young family, his wife Carley, son Lucas and daughter Blake who are very patient and realize much of his time is devoted to hunting. There's a running joke in this family, "We interrupt this marriage to bring you hunting season"
Being part of the FoxPro family is a dream come true for Curtis and he looks forward to representing FoxPro on his many adventures.