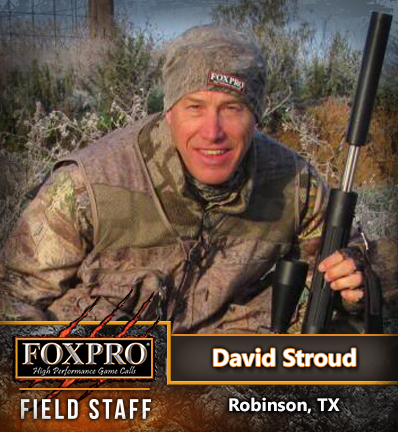 David Stroud hails from Mississippi originally and while growing up there pursued small game from an early age coming from a family of avid hunters. Deer came next and the timing was perfect as the southern tier states were at that time seeing a population boom of both Whitetail deer and Eastern turkeys. David took advantage of the long seasons and generous limits which allowed him plenty of time in the field each year to hone skills.
After college new hobbies such as Handloading and Bowhunting just fed into his passion for the pursuit of all types of hunting. During that time David always had a fondness of calling wild game whether it was a gobbler, crows or a Bull elk. Upon reading stories of Murray Burnham calling predators in Texas he decided to try his hand at predator calling but found only limited success in the thickets of South Mississippi.
David focused mainly on bowhunting for several years hunting from Alaska to Colorado but mainly hunting whitetails near home. David had the honor of being appointed President of The Mississippi Bowhunters Association in 1989. After serving only one year a job switch put David smack dab in the middle of prime predator hunting, the great state of Texas.
David has been a resident of Waco, Texas now for 25 years and for a good bit of that time has been calling predators all over the state as well as hitting other states on a yearly basis. Predator hunting has only increased his passion for reloading and tinkering with all manner of rifles and optics with a little competitive shooting along the way for good measure.