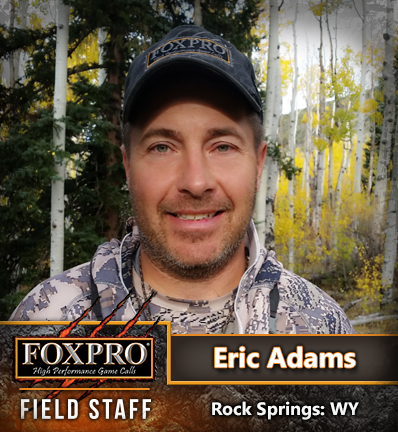 Eric Adams was born in Sandy Utah and was bitten by the hunting bug at a young age. Eric was fortunate to have "Uncle Blaine Johnson" who took him hunting deer, elk, pheasants, and ducks as soon as he was old enough to keep up. Eric currently resides in Western Wyoming which is a hunter's paradise with arguably some of the best predator hunting in the country and unfettered access to public lands.
Eric learned how to hunt predators in the early 90s in Southern California while doing a hitch in the United States Marine Corps. In the early 90s, Southern California was as predator dense as any place in the country and made the perfect teaching grounds.
Eric is a successful contest hunter and has many wins and top 5 finishes under his belt. He has had contest success in Wyoming, Nevada, & Utah. Eric's advice to being a successful contest hunter is, "have a good partner that will put as much time & effort into calling contests as you do. My success has always hinged on reliable partners that keep me upbeat when I'm down and cover my mistakes when I make them." Eric is also an avid Western big game hunter and spends many days in the fall hunting elk, antelope, bison and high country mule deer.
Eric has some advice for sportsman thinking about getting into predator hunting, "Hunting predators can be as action packed and addictive as any of the hunting sports. If you call a coyote into close range and aren't hooked, there may be something wrong with you. It is also my opinion that being a successful predator hunter makes you a better hunter of all other species. Seasoned predator hunters react quicker, are better at wind management, shoot better, acquire targets quicker and are better at blending into their background. If they aren't doing those things they are not successful predator hunters."