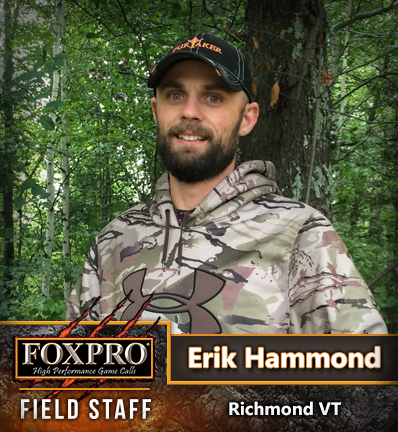 Erik Hammond was born in Burlington Vermont. Erik grew up in Huntington Vermont on heartland dairy farm. Erik spent most of his child hood helping around the farm and playing outside. Erik has had a love for the outdoor since a very young age fishing and playing in the river behind his house and running all over the farm all the time even by his self. Exploring the woods and rivers from sun up to sun down. Erik would spend day after day exploring the mountains behind the farm and had a love for seeing wild animals.
Hammond started hunting whitetail deer at the age of 13. Instantly fell in love with the hunt. In Erik's Mid 20s he started running hounds for coyotes with a good friend's father!
One day in the truck Hammond asked Grampa what are those calls hanging from your shifter. Grampa replied coyote calls. Hammond asked Grampa if he would take him out and try it. Grampa and Hammond had been out for a few sets with no luck. Hammond and Grampa kept at it and Grampa assured him that if they played a good wind and kept after it a coyote will come to the call sooner or later! After a few hunts Grampa and Erik were on stand and had only been calling for a few minutes when Grampa said to Hammond get ready buddy because we have 2 coyotes running in hard. Hammond had his 12 gauge pump shot gun and Grampa had his ol trusty 22-250. Hammond was able to take his first called in coyote with a shotgun at 20 yards.
Hammond was instantly hooked, he could not get over the adrenaline rush he got from that one stand. Hammond started hunting daily and Grampa gave him the basics. And now Hammond was on his own. Hunting almost every day all year round he started picking it up quick.
Erik is always getting new people and friends into calling predators. He also enjoys putting on calling seminars at local sporting goods stores. Hammond is a coyote hunting addict with a love for calling predators and a love for sharing it!