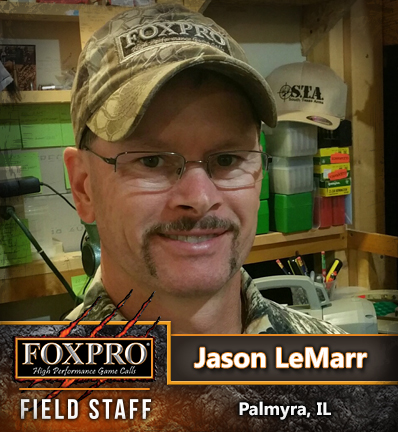 Jason LeMarr was born and raised in central Illinois (not Chicago) and continues to live there today with his wife and two kids. Jason has always had a love for sports, but it wasn't until he was in his twenty's that he became passionate about hunting predators. If you ask Jason what his favorite predator to hunt is, he will tell you, "Coyotes, hands down." Although Jason enjoys hunting coyotes at any time, his favorite season to hunt is November - March due to the night season. Jason states, "I hunt a lot of farm ground for farmers in our area and the surroundings are just better to call at night."
The first experience Jason had with FoxPro was back in 2005. He was preparing for a coyote hunt in Boise, ID and he had an electronic call sent to him, by another company, to use on the hunt. He states that, "The sounds on this unit were horrible," and that's when he decided to make a call to FoxPro. Soon, FoxPro had a 416B unit in his hands and he was ready for the hunt. Ever since then, he always has a FoxPro with him. "The FoxPro is a tool. The benefits are so important that I will not go calling without one."
Jason is known among some in the hunting industry for a hand call he developed called the Tweaked Squirrel. In 2011, Jason combined his love of hunting with his love for God and established Predator Dynamics, an outdoor ministry that shares with others the parallels between coyote calling and temptation for coyotes and people. When asked how he feels about being a member of the Field Staff for FoxPro he says, "I feel very honored and truly blessed to be a part of an elite family like FoxPro."