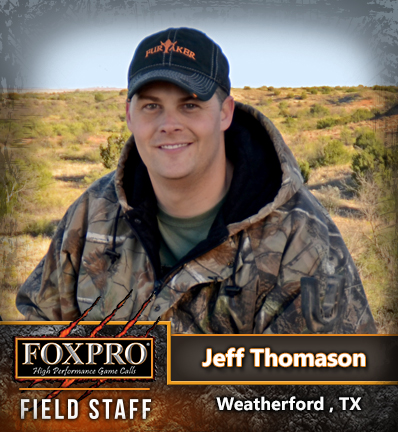 Jeff Thomason was born and raised in Northeast Texas, where he developed a love for all types of hunting. He has hunted many types of game, ranging from Whitetail deer in Texas to the plains game of Africa. But his greatest love is predator hunting.
Jeff began hunting predators at a young age, where he competed and placed well in many predator hunting contests. But his career in predator hunting began one day while on duty at the fire station. That is where he met his hunting and video partner Todd Woodall.
After a few successful hunts, Jeff suggested, "Why don't we video a few hunts?" Little did we know that would be the beginning of the Texas Predator Pursuit video series.
While filming Volume 2 "Reloaded" Jeff and Todd realized how useful the FOXPRO really was. "We were already carrying tons of extra gear for filming, so lugging around tapes, wires and speakers was too much of a hassle. FOXPRO has changed that by making a great sounding, lightweight call with all the sounds a predator hunter needs and then some."
On top of making a great caller, FOXPRO is also well known for their excellent customer service. Jeff and Todd both know that making these videos would be close to impossible without great sponsors and products like FOXPRO.