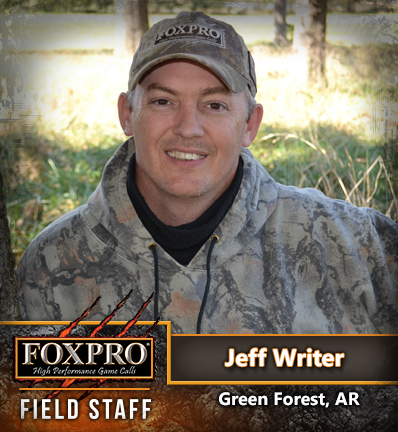 Jeff was raised on a dairy farm in southern Missouri. He started hunting at a very young age with a break over 410 with a sawed off stock. He attached a sock with black tape to shield his shoulder. He hunted every square inch of Barry county growing up, hunting pretty much everything that moved. He spent every waking hour exploring the Ozark mountains. In those days a young man could wonder to his hearts content. Everyone knew everyone, and no one cared if you hunted. It was a much simpler time than today and hunting kept him out of trouble.
Jeff spent most of his adult life chasing whitetails with a bow all across the United States. This obsession occupied most of his time and energy. He spent many a cold morning in a tree stand, and took many nice bucks, in several different states. Hunting predators in the off season was a way to increase the numbers of the animal he loved to pursue. This endeavor soon lead to an addiction. The rush of a hard charging coyote soon replaced his passion for whitetails. Today it is all coyotes, all the time. In the last several years he has switched his attention to filming decoy dogs. The added thrill of having a dog on stand is what he lives for now.
Jeff lives is Northwest Arkansas with his wife and 5 daughters. He owns a commercial poultry operation which affords him time to chase coyotes in many states all year round.
"I feel honored to be part of the FOXPRO family. Simply the best product and people you can find anywhere"