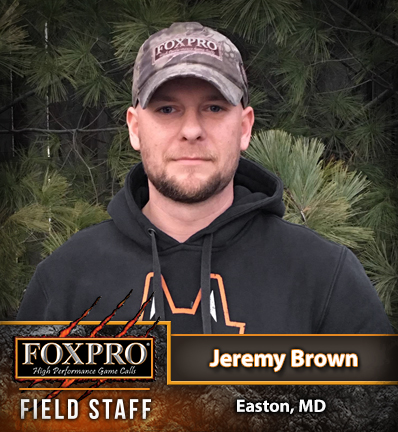 Jeremy is a veteran of the U.S. Army that was born and raised in Annapolis, MD. After spending most of his active duty time in central Texas, he came back home to Maryland where he and his wife Amanda settled on the eastern shore to raise their three children. He has been hunting since he was 7 years old and grew to love the outdoors more with every trip afield.
It wasn't until after a long deployment to Iraq that he found his passion of calling predators. While sitting in a deer stand on Fort Hood, Jeremy saw his first coyote mousing along the Brazos River and with a lip squeak or two he had killed his first coyote with a bow. Chasing coyotes in the Texas hill country became more than just a hobby, it was "the best therapy a young guy coming home could enjoy." Over the years, it has been an almost daily occurrence for Jeremy to come home and spend time with his family, then put them to bed and hit the road for some "therapy"After his relocation to Maryland, he couldn't get the coyotes out of his head and decided to try his luck on the abundant red fox that roam the farmland of the eastern shore.
In 2015 Jeremy and a friend started filming predator hunts across the eastern shore of Maryland. It was just something that felt natural and they had no ambition to be competitive or show anyone the footage but in 2016 Jeremy was invited to a local predator calling contest with his best friend Mike and found an all new and thrilling side of predator hunting. Although he and Mike did not walk away with first place, it drove them to push harder to reach their goals. One week later, they won a Maryland based contest and immediately started looking for the next bigger challenge. In 2017, all of the hard work paid off when Jeremy and mike won the "most kills" and "biggest fox" categories in the eastern U.S. predator calling championship. The very next weekend they won the Maryland predator calling contest that haunted them from the year before. Jeremy and Mike can be found hunting the cut corn and bean fields of Maryland's eastern shore 3-4 nights a week.