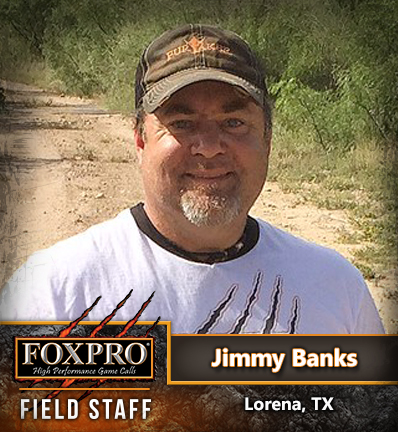 Jimmy Banks was born and reared in Southeast Texas. The piney woods offered Jimmy the opportunity to hunt whitetail, varmints, waterfowl and dove with family and friends. At 12 years of age, Jimmy called in and harvested his first double on coyotes with a mouth call. Continuing to call in varmints at both day and night was so exciting that Jimmy introduced others to this type of hunting.
Hunting has always been a passion for Jimmy and has taken him all over the state of Texas, several other states and even to Africa numerous times. These travels have included tournaments, contests, and seminars, but what Jimmy still enjoys the most is just hunting with family and friends. Jimmy started using FoxPro electronic game calls about 15 years ago and his favorite FoxPro caller is the Shockwave. Jimmy enjoys hunting predators and especially cats. He has hunted leopard, caracal, civets, genets, African wildcats, bobcats, hyena, honey badger, jackal, coyotes and fox to name a few. His favorite predator to hunt in the U.S. is the bobcat.
Guiding whitetail and exotic animal hunts, as well as stocking ranches in Texas, has placed even a higher importance on calling in varmints for Jimmy, as predation on these ranches can be devastating. Jimmy and his sons continually attempt to control predation on their own ranch where they live. Today Jimmy lives in Central Texas with his wife Andra, and three sons Evan, James and Seth and continues to introduce and mentor others in the art of calling in predators. All three of his sons are successful varmint callers as well. Jimmy is honored to be a part of the FOXPRO family.