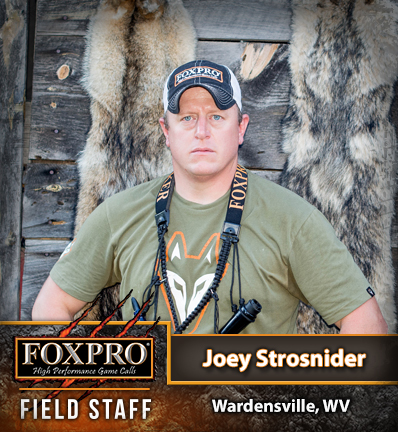 Joey grew up in the small town of Wardensville located in the Potomac Highlands of West Virginia. His passion for the outdoors began at the age of 6 when his father and grandfathers would take him hunting and fishing every chance they had. At age 14 Joey's father took him on his first night hunt for red and grey fox. Within 10 minutes of calling a set of eyes appeared across the field and his new addiction was born.
From 1998-2001 Joey attended the University of Northwestern Ohio where he studied Automotive/Diesel and High Performance Technology and graduated with an Associates Degree in Applied Science. He currently works as an automotive/diesel technician performing repair on vehicles of all makes and models including Fire and Rescue emergency vehicles.
For the past 22 years Joey has been addicted to predator hunting especially at night. In 2005 it became apparent that coyotes had become a problem and were there to stay in his beloved state. He spends countless hours all year long traveling back roads, locating, scouting and hunting coyotes day and night. Joey stated "I've hunted practically all my life for whitetail deer, turkey and other animals but nothing compares to the adrenaline rush I get seeing a set of eyes light up at night or hearing a coyote bark and howl responding to a call". He has been called upon by many local farmers in and around his community to help control and eliminate coyotes that are attacking livestock.
For the past 30 years Joey has enjoyed hunting, fishing, and has recently taken up bow fishing. He is proudly passing that same love and passion down to his daughter, Madison. Madison loves hunting, fishing and just helping out in any way she can no matter what the animal or task is as long as she is outdoors with her dad.
"I am proud and honored to have this opportunity to be part of the FOXPRO family." "I'm very excited as this is such a privilege to be able to share my experience and knowledge with the best call makers and predator hunters in the world."