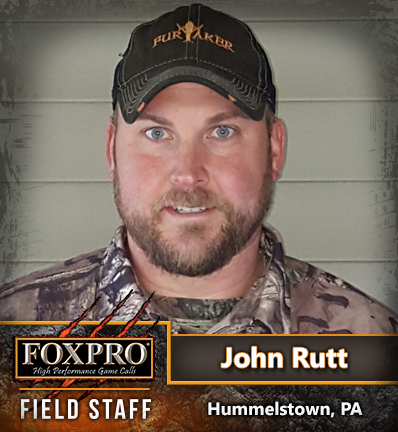 John Rutt grew up in the heart of the rich agriculture country in Lancaster County Central Pennsylvania. He was first introduced to hunting at the age of 12 by his father, Leon Rutt, with his first shotgun, a Remington 870 express 12 gauge. For the first part of his hunting career, His focus was small game hunting on his grandfather's farm and hunting deer in northern PA. John has a great love and passion of the outdoors. He is an avid hiker, backpacker, boater, skier and also snowshoes. For ten years, John played club rugby and had minimal time for hunting except for deer and bear in northern PA.
It was until about 2010, john became very aggressive with hunting. People that know him, state that hunting is a passion in his life and thrives off of it. John has developed a love of waterfowl hunting and also upland bird, turkey, and crow hunting. He states bird hunting is entirely different than hunting predators and deer and gives you a different rush and appreciation of the owners of the sky. Snow goose season in Pennsylvania is extremely passionate to John as they migrate through this area of PA, and come in the thousands.
John has actively pursued learning, meeting mentors, and mastering predator hunting and trapping. Being in central PA, this area is rich with foxes and raccoons. On a given winter night, he can be found with his FOXPRO actively pursuing these animals and waiting for those red eyes to show themselves and experiencing a night of excitement. He has also became a certified wildlife nuisance control officer in PA and has his cable restraint certification.
John's proudest hunting moment was calling in a black bear in northern PA, having it run up on him, standing up 17 yards away and John getting the harvest. He has also hunted mountain lions and wolves in Idaho, actually calling in a pack of wolves to 200 yards with his FOXPRO, but only to have them hang-up. However without the harvest of these wolves, the communication with these pack of wolves with the FOXPRO and mouth calls will never be forgotten.
Within the last two years, John has taken up rattlesnake hunting and scuba diving. Already becoming an advanced open water diver, he has hopes to get his underwater hunter certification. When not hunting, John runs a successful business rebuilding diesel engines and components all over North America and the world based in central PA and also likes staying active with sports, weight training, travelling and spending time with his mastiff Reagan.
Being a field staff member for FOXPRO is a great honor for John. Hunting is about the people you meet on the walk of life and the memories. As aggressive as John is in life, FOXPRO is just as aggressive and ambitious in supplying customers the premier experiences in the field or in support with their exceptional products. John is happy to partner with FOXPRO to help teach our future generations about hunting, conservation and the great outdoors and to promote the best game calls on the market, FOXPRO.