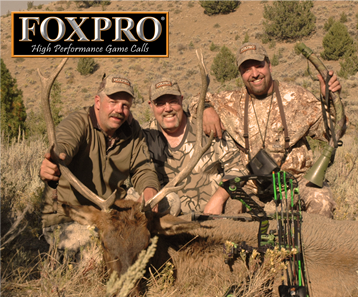 Justin was born in Burns Oregon in April of 1971 and in October of 1971 his parents had him in elk camp, he hasn't missed a year since. When Justin was just nine years old he called in his first bull using only his voice and a piece of black PVC pipe. The same year he started calling coyotes, at the age of 12 Justin killed his first bull and 2 weeks he later got his first coyote.
In 1991, Justin decided to make hunting his profession and went to guide school and started guiding in northern Idaho and Montana. Justin worked for several different outfitters over the years and in 2002 Justin and his wife Nikki started Diamond A Guides in Eastern Oregon. Justin guides for deer, elk, antelope, bear, coyotes, bobcats, cougar and varmints. Justin has been giving seminars on elk and predator calling since 2004
In 2003 Justin got to use a FOXPRO for the first time calling coyotes, he's been hooked ever since.Living in Oregon gives him the opportunity of using the FOXPRO to call elk as well as predators. "FOXPRO gives me the ability to make several hundred different sounds and the ability to place the call out in front of me when calling coyotes or back behind me when calling elk. In 2012 I was able to call in several bulls using the FOXPRO exclusively or in combination with the new Dillon mouth calls and the new Closer grunt tube. I feel very privileged to be involved with such a great company."