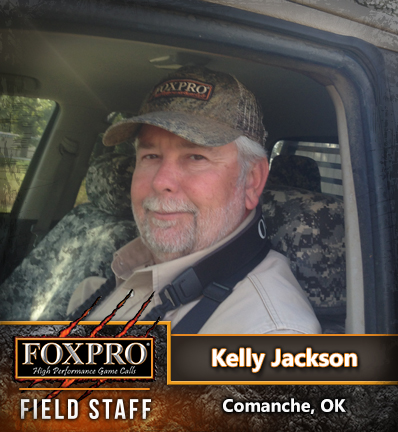 Kelly Jackson was born and raised in South Central Oklahoma. Kelly started early on by going squirrel hunting with his Dad. Often times they would also hunt doves and quail. Kelly always had a good birddog or two through JR and SR high school. He ran coon hounds and trapped as well.
He began to get serious about the coyotes and bobcats during the late 70's and early 80's when the fur market was at its high. The next few years, Kelly spent most of his spare time team roping and fishing bass tournaments. Kelly always seems to find the time to call a few coyotes and cats each season.
About ten years ago he got serious about coyote hunting again and tried to hunt 4 states each year. Depending on how much travel time his job requires, Kelly tries to make 300-500 stands each year and continues to learn as much as he can about coyotes and what triggers them to come to the call.
He has hunted a few contests in Oklahoma and North Texas and his partners and him do very well.
"I was honored that Mike Dillon asked me to join the team. Mike and Steve have always been very helpful in the past and more than willing to help out when I was working on Kids calling contest here in Oklahoma. I think a lot of them and I will do what I can to help FOXPRO succeed by bringing a better mouse trap to the predator calling community."