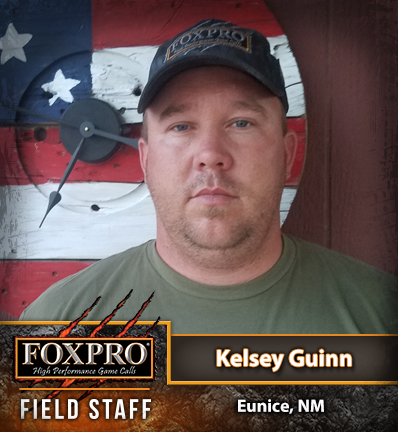 It all started in the 1960s, Kelsey's grandpa was an avid hunter, using bloodhounds to hunt coyotes. Kelsey came along in March of 1985, and visits to his grandparents' house always included hunting and learning about his weapons. Kelsey's grandpa soon passed his love of hunting on to him. After his grandpa passed away, Kelsey stepped away from the world of coyote hunting. It wasn't until 2013, when his grandmother passed away and they began to sift through his grandparents' possessions, that's when Kelsey found his grandpa's coyote calls. It only took him a few times trying them out before he quickly realized he had found a passion that he wanted to pursue as a profession.
In 2014, Kelsey started building his truck and purchasing equipment here and there. Now, in 2016, Kelsey has enough equipment to hit the ground running with his guide service. He is ready to provide successful hunting guide services, intense hunts, and has the equipment to prepare the kills for the fur buyers once the customers have gone. The work never ends, but the saying is true: find a job you love, and you will never work a day in your life. Kelsey has one goal - to give every customer the best hunting experience they've ever had, every time.
Kelsey is located in Eunice, New Mexico with approximately 600 Square miles of leased hunting land in New Mexico & Texas. He offers affordable night time predator hunts focused on thinning the vast coyote population and assisting ranchers with aggressive packs that threaten their livestock and lively hood. This is beneficial to the coyotes in minimizing disease and preventing coyote expansion into residential areas. He also follows all NM and Texas state laws and wildlife regulations while respecting the rights of property owners. His service utilizes the latest technology in thermal and night vision imaging for a 100% Lights Out Experience for your guided coyote hunt!
Kelsey's guide service depends on his equipment to perform every time he go out hunting, that's why he uses the FoxPro Truck Pro and the CS-24C callers. The remote range and the ability to play 2 sounds at once makes it a one and a million caller. Kelsey also wants to thank FoxPro for everything they have done to change the game of the predator hunting industry. They also have the best customer service in the business and they can help you with any problem you have.