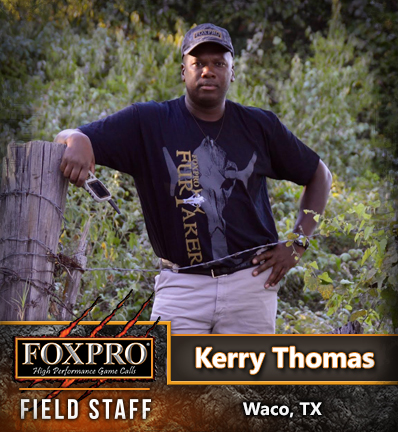 Kerry Thomas has spent most of his life in the outdoors enjoying all of what Mother Nature has to offer. Growing up in the country, he became an avid fisherman and hunter of small game. He spent many a day trekking through the woods near his house with his single shot .410 in search of rabbits and squirrels. His passion to hunt quickly grew, as did the size of his prey. From rabbits and squirrels he moved on to hunting deer and elk. And then in his late 20's he started calling predators realizing he could hunt year round. Since then he's been hooked on it. He loves the challenge they present and has managed to take his favorite (bobcat) with his bow.
By the grace of God, in 2008 he got the opportunity to fulfill a lifelong dream and went on his first of two safaris to South Africa. Like most safari hunters do, while collecting his 20 trophies he fell in love with the country. And, as a result of his travels he wrote a book and produced a DVD geared for the budget-minded hunter entitled: Planning An African Safari: (For the Everyday Working Man).
Calling predators is something that Kerry loves to do on his days off from being a professional firefighter. Whether he's on a deer hunt in the Texas Hill Country or elk hunting in Southern Colorado he will likely have a mouth call in his pack just in case the opportunity for a predator presents itself. In his early days of hunting he used cassette tapes with a speaker-horn and 30 feet of wire. Kerry said when he graduated from the tapes to his FOXPRO e-caller it was like time traveling. The range and versatility his FOXPRO unit has made his calling a lot more productive. The ease of having all of the FOXPRO features in a remote at his fingertips makes for a much smoother calling stand.
Currently he continues working as a professional firefighter in the Central Texas area. He enjoys spending time with his wife Olaiya and teaching his sons Kerry Jr. and Kolton about wildlife and nature. Also in his spare time, he continues to indulge his passion to hunt, film, photograph, and write about his adventures in the wild.
I believe that being a part of the FOXPRO field staff team is truly an honor. FOXPRO is a great company with a first rate track record. Couple that with awesome American made products and you've got an organization that's easy to get behind. There is a good reason why the other guys compare their sounds and features to those of FOXPRO. Their family centered approach to business is a large part of what sets their units a part as the gold standard of the calling industry, and it's a family that I am proud to be a part of!