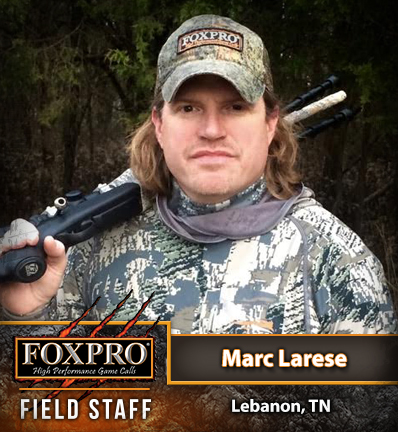 Marc Larese grew up in the small town of Belle, West Virginia. He started hunting at a young age and soon developed a passion for hunting and the outdoors. After college he moved to Lebanon, Tennessee, and started working as a touring guitar tech for some of the biggest names in country music (Keith Urban, Trace Adkins, Deana Carter, and Lee Ann Womack just to name a few). Marc currently works for Luke Bryan. As someone once put it: "He is a liaison between the hunting world and the country music world". When Marc was asked about FOXPRO, he said, "I get asked all the time by musicians and artists, some of which are already avid hunters that are just getting into the predator hunting game, what kind of call I would recommend. I always tell them hands-down the FOXPRO line of calls is where it's at".
Marc is an avid whitetail and turkey hunter, so it only seemed natural to get into the predator hunting world. After purchasing his first predator mouth call, he hit the woods and fields of middle Tennessee. After numerous occasions and close calls, he finally bought a used and beat up FOXPRO FX5 in 2007. It was a total game changer! "I can remember the first time I got a response with it. I had two coyotes race into the call like their tails were on fire, and, from that point on, I've been totally obsessed". After that first year of using the FOXPRO, he started hitting the fields every chance he got to hunt and hone his skills on calling in predators. "Tennessee coyotes are tough. They get a lot of rabbit calls thrown at them, so you really have to find a call that they haven't heard and that works in the area because chances are they have probably heard a rabbit call before."
During the summer months Marc is usually running around the country doing shows and maybe an impromptu predator hunt the day before a concert in Texas or Wyoming or whatever state he's in. But come October and the winter months, you better believe he is out in the field calling in coyotes and an occasional bobcat.
Marc is always trying to introduce others into the world of predator hunting and competes in multiple predator hunting competitions throughout the year. He has even started hosting an annual predator hunt in the middle Tennessee area where he lives with his wife Ann and their two kids, Hunter and Hailey, who are also all outdoor enthusiasts and avid predator hunters.
Currently he is running the FOXPRO Fusion and the Prairie Blaster on his hunts. He is very happy and considers it an honor to be part of the FOXPRO family and among some of the best predator hunters in the world.