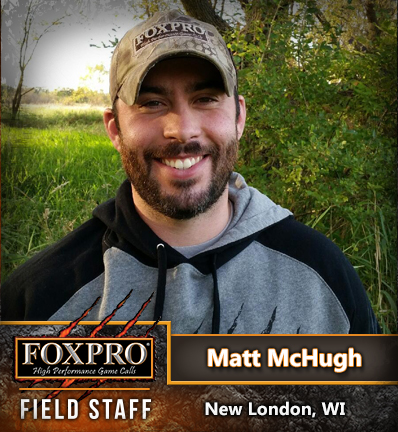 Matt McHugh was born, raised and resides in Northeast Wisconsin and has been a student of the outdoors his whole life. Chasing hounds with his father as soon as he was able to walk and carry a flashlight, pursuing Raccoon and Bear, has shaped his education and lifestyle as an ethical educated hunter. His pursuits grew to include hunting and studying White-tailed Deer, Elk, Rabbits, Pheasants, Wolves, Fox, Coyote, Bobcat, Turkey, Crow and all the rest of God's furry creatures he's encountered. He now shares his experience and fervor for the outdoors with his Wife and 3 year old Son.
After completion of his Bachelors Degree in Wildlife Ecology from the University of Wisconsin- Stevens Point, he focused on his passion for Predators. Much of his undergrad research was devoted to Coyote vocalizations and interspecies social behavior. During which he began to develop a new twist on Predator Calling, a "chess match" in the dark, and in thick cover. Matt's calling relies heavily on his natural voice sounds and has served him well over his 13 years of predator calling experience. The first calling contest he entered was the 2013 World Predator Calling Championship in Waco, TX. Using only his natural voice, he won the 2013 All-Around World Predator Calling Championship, returning again in 2014 with some aid from diaphragm calls; he won the 2014 World Prey Distress Calling Championship and placed second in the All Around. In 2015, he won the NRA's Great American Outdoors Predator Calling Contest in Harrisburg PA.
Currently Matt is very excited to bring his flavor of predator calling set-ups, tactics, and tips to anyone who will listen. He offers seminars and instructional hunts to those looking for a leg-up on the predators they pursue. His passion for the outdoors has grown so, that his cup overflows and his love for teaching his trade is on the forefront.