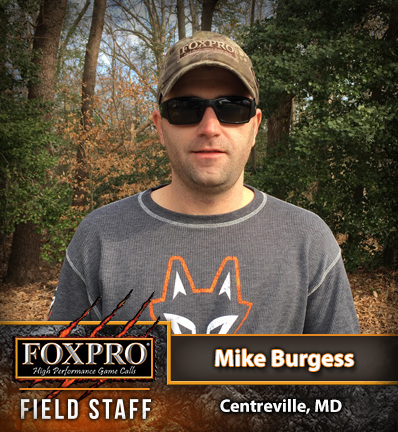 Mike, was born and raised in Davidsonville, MD, about 20 minutes outside of Annapolis. Mike's passion for being in the outdoors, began at the age of 8 when his grandfather bought him a BB gun and he taught Mike how to shoot. From there, he started hunting small game with a 22 long rifle, and then at age 14 killed his first whitetail deer with a compound bow, and another favorite of his was waterfowl. After school and on weekends, he was in a tree stand or blind any free time that he had.
At 19, Mike moved to the Eastern Shore of Maryland and continued hunting waterfowl, deer, turkey, and chasing Rockfish. "One of the best things about the outdoors, is being able to share it with family, and great friends, and introducing new people to hunting." Mike went out fox hunting one night with a longtime friend, and from then on, he was hooked!! Since then, it has turned from a hobby that happened a few times a year, to a way of life. "There is nothing like walking out into a dark field, placing the FOXPRO out and turning it on and seeing a predators eyes light up, and watching them work coming into the call. Talk about an adrenaline rush." During the season, after dark Mike is usually out calling with Jeremy 3-4 nights a week.
In January 2016, he and Jeremy Brown, a fellow FOXPRO field staff, competed in a couple local predator contests in Maryland, and finished 2nd in one, and 1st in another. In January 2017 he and Jeremy won 2 Eastern US predator calling championship categories, and 1st in the Maryland contest!
"Couldn't be more excited, and proud to join the FOXPRO family, and looking forward to sharing my experience and techniques with others"