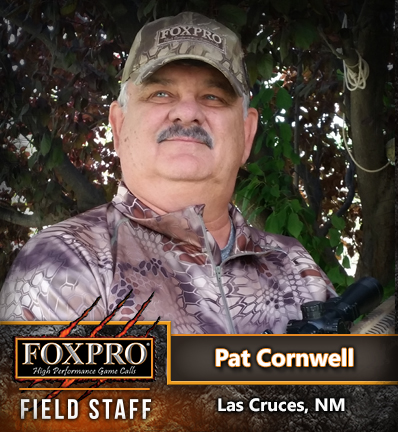 Pat grew up on a small farm in Michigan. He started hunting at a very young age with his father and brother. Mostly Rabbits, squirrels and deer.
At an age of 17 Pat enlisted in the United States Marine Corps. In 1983 he moved to New Mexico to coach football at Western New Mexico University. The hunting out West sure was different. He had never used a rifle before. Most fathers help get their children into the outdoors. Not this time. Pat went to Salt lake City, UT for a few weeks to visit his son and granddaughter.
The only thing his granddaughter would allow on TV were predator hunting shows. He was hooked! After watching a lot of videos and reading a few books he now had a great passion for predator hunting.
Pat now takes his grandson along whenever he can and hunts with his son often. He is often seen sharing his hunting experiences with anyone who will listen. A friend of his in AZ. once told him "anyone can hunt coyotes, but not everyone can call coyotes. Get a FOXPRO!" What a game changer. Pat likes the FOXPRO products because they are always adding new products and improving old ones. The customer service is second to none. All this tells everyone that FOXPRO is on top of their game.