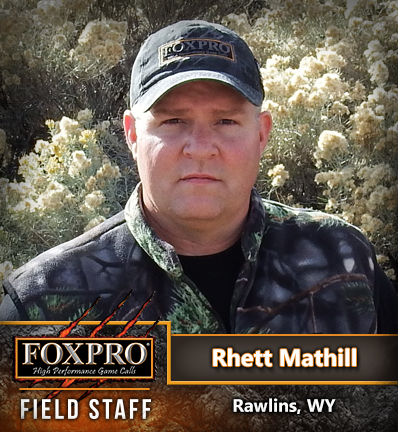 Rhett Mathill is a Wyoming native who lives in the south central part of the state in Rawlins, Wyoming with his wife and two children. At an early age Rhett was introduced to the outdoors as he ventured out on hunting excursions for elk, deer, antelope and predators with his dad and grandad. Both were avid big game hunters, predator hunters as well as fisherman. He now enjoys sharing the same knowledge with his wife and children as their time is spent in the mountains, desserts and on the rivers of Wyoming.
At the age of 10 Rhett was introduced to coyote hunting as his dad called in his first coyote, on the famed Red Dessert, which he took with his dads old 22 mag. This started his predator hunting addiction as he was awe struck in the fact that he could make an animal hunt him while he was hunting that animal. From that day on Rhett was hooked and has since then spent the majority of his free time in pursuit of predators across the country. His favorite part of predator hunting is calling in someone's first predator and getting to see the look of excitement on their face.
In 2009 Rhett was selected as an original member of TEAM FOXPRO and finished 3rd at the National Coyote Calling Championship that year. He has since placed 6th at the World Coyote Calling Championship in 2010, 4th at the NCCC and 6th at the WCCC in 2014 as well as numerous top 5 finishes at many contests over the past 18 years. No stranger to the FOXPRO name, Rhett had years of success with his Model 48 and has since then used numerous FOXPRO units with great results.
Rhett brings 33 years of experience to the FOXPRO FIELD STAFF and is honored to be part of an elite group of predator hunters and the industry leader in predator calls.