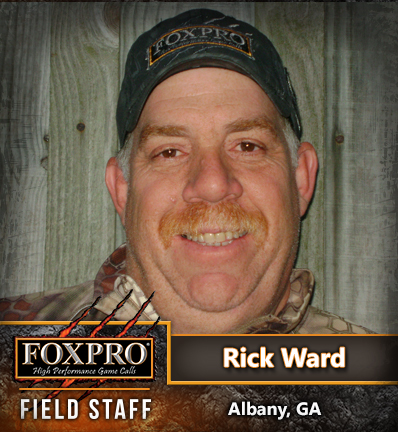 Rick Ward grew up on a small ranch in Texas. Working horses and cattle where a way of life and like most people Ricks love for hunting started at an early age. Learning how to trap predators moved him into calling predators after reading an article in a magazine on the challenges of calling coyotes. Rick was given an old wooden hand call by a neighbor and he has never looked back.
Rick is a national award winning Professional Rodeo Announcer and Voice talent. You may have even heard him on some of your favorite outdoor shows. Ricks journey on the rodeo trail has allowed him to hunt coyotes across this great land and beyond. Rick currently resides in Georgia with his wife of 25 years and his three kids. He says coyote hunting in the South East is a real challenge due to the abundant food sources and thick cover.
Rick's dedication to the sport of predator hunting has gained him the respect of many outdoor professionals. Rick has guided hunts for several predator hunting videos, He is one of the founders of the Georgia Predator Hunting Association where he is the director of marketing. He and his team have worked with State officials and law enforcement agencies to get the laws updated to further support predator hunting and get the suppressor hunting laws passed in Ga. Rick has been a dedicated user and promoter of FoxPro products for many years and we are excited to have him as part of the field staff team.