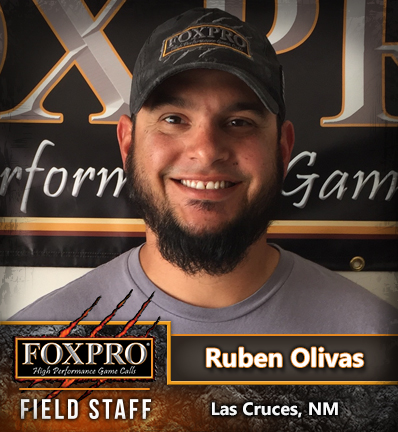 Ruben began his coyote obsession as a Holiday Tradition with his brother in law Manuel Ponce back in 2005. Since then, the obsession became a lifestyle and has gone from going out calling once or twice a year to going calling as much as humanly possible. Ruben has hunted coyotes and big game in various states such as his home state of New Mexico, Texas, Arizona, Pennsylvania, Kansas, Washington and Colorado all with much success.
In 2012, Ruben Co-Founded New Mexico Desert Dogs, a southern NM based group that host a series of hunts throughout the year. It has grown and continues to grow every year! According to Ruben, "We could never have grown and helped the ones we did, had it not been to great sponsors such as FOXPRO." NMDD hosts not only hunts but raffles to earn money to give away to local charities such as the Alzheimer Association and H.O.P.E, a local Cancer outreach program for survivors and families battling the disease.
It was in 2010 that Ruben took hunting coyotes to the next level, entering and placing in local coyote contest. With the help of his FOXPRO and his hunting partners Derek McBee and Steven Torrez, they began placing and winning, adding fuel to the addiction.
In 2014 Ruben entered the World Coyote Calling Championships and the Arizona Coyote Calling Championship with fellow FOXPRO Field Staff, A.J. Duran, and placing 12th in Worlds and 7th in the ACCC. These two are on a mission for 1st, and with the right equipment, their FOXPRO's, and some luck, will be holding the title soon!