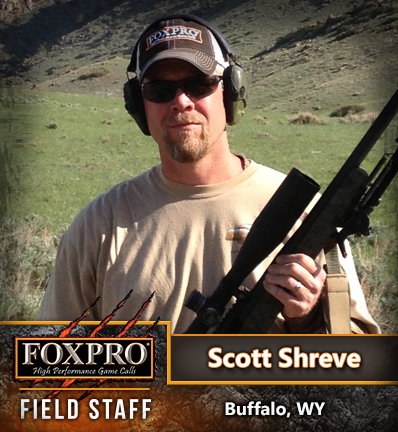 Scott Shreve is a Wyoming native, born and raised in Wolf, Wyoming on the family ranch. He grew up hunting and shooting as a way of life. From shooting prairie dogs to calling in a big bull elk, he has always loved hunting. Scott enjoys taking his wife and kids shooting and hunting everywhere they can go. Predators large and small are their favorite things to hunt, with 3 out of the 4 in the family taking big mature black bears.
Scott has been predator hunting for as long as he remembers and became very serious about it 26 years ago. His passion and dedication to calling predators has been very rewarding. "Nothing beats hunting the skilled predators," according to Scott.
He has been calling competitively for over 14 years and was an original member of Team FOXPRO, winning competitions and placing consistently in the top teams at most events he entered.
Scott has turned a way of life into a lifelong passion with a drive to succeed and learn every day. He feels you can always learn from going out in the field. "I am really enjoying all this great technology that has come about and makes me a better, more effective hunter! I've ran FOXPRO calls from the very start...I'm very proud to be part of the best company in the industry. FOXPRO is always pushing the envelope in technology and produces the best calls out there, not to mention the customer service is top shelf."