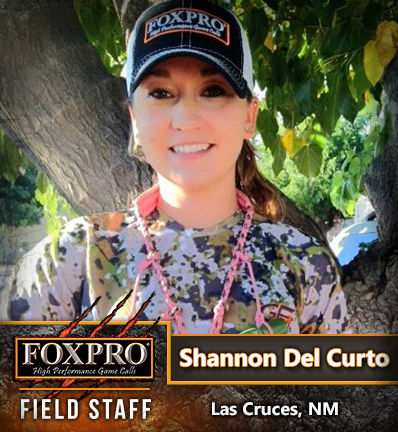 Shannon Del Curto grew up in the central mountains of New Mexico where her passion for hunting began early in her teen years when she would accompany her best friend and father on several big game hunts. At age 15 she had her first big game harvest and was, as most would say "addicted." Since then she has harvested several big game species including oryx, elk, mule deer, antelope, whitetail, and aoudad. She also hunts upland birds and waterfowl in between her big game and predator hunts. Shannon enjoys taking females and youth out into the field and teaching them how to hunt and sharing her passion for the outdoors and hunting. She takes pride in going out into the field and being successful with other huntresses. Her favorite weapon of choice for big game is with her Bow, and spends any chance she gets out in the field.
When it came to predator hunting Shannon was born into a ranching family where the understanding for protection of cattle from predators was taught early, her father did lots of trapping as she grew up and by age of 16 she began to venture out on her own hunting coyotes and other predators on the family ranch. The past few years Shannon has begun to hunt coyotes competitively and recently decided to enter contests with her teammate Rachel, making them the only all girls team at many competitions. The girls' team has won many side pots and placed 15th in the Arizona Coyote Calling Championships for 2015, they plan to continue to work hard and hope to influence more women to enter the predator hunting world. Shannon started calling with different types of hand calls and decided to purchase her first FOXPRO a few years into hunting predators, saying "I have never been more satisfied with a purchase in my life, I have used a FOXPRO unit for 6 years now and it has never let me down, no matter the weather, it continues to perform like new and produce predators year after year."
Shannon is also expecting to graduate college from New Mexico State University in May of 2016, where she will then continue her employment with the United States Forest Service as a Rangeland Specialist/Wildland Firefighter.