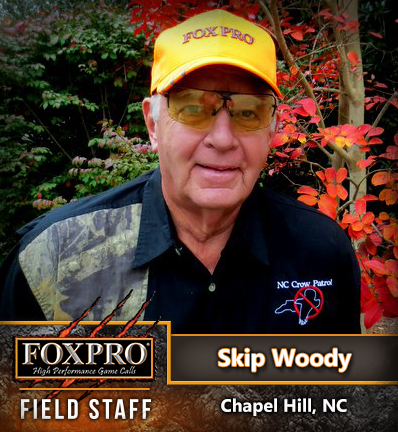 Skip grew up in a small town in central North Carolina about 25 miles from the Virginia border. He acquired his first gun at age 11 (a Savage .22/410 O/U) that initiated his love for hunting starting with squirrels, rabbits and doves. Skip also enjoyed target shooting and punching paper around the farming area where he lived. Four years later his hunting life was changed forever when a patient of his father (a Dentist) introduced him to the science of crow hunting. This began a decade long "apprentice-ship" with a master crow hunter with 40 years of experience. At that time electronic callers were few and unreliable, so proper use of mouth calls had to be mastered--a skill that continues to pay dividends today. His first mouth call was a Tom Turpin and it still entices crows into shotgun range today.
Skip is a graduate of Wake Forest University, has 3 kids and 7 grandkids, and has been happily married for 51 years. He retired years ago, after working 34 years for the same company, and has not lost one ounce of enthusiasm for chasing his black winged friends!
About 12 years ago, Skip added the FOXPRO FX3 to his calling inventory. It is still in use today!! He will tell you that the combination of skilled mouth calling and FOXPRO ecalling is far more effective than either device alone. Since North Carolina has no "flyways" for crows, Skip has mastered the "run & gun" technique making 10-20 stands per day. His typical TBC (total body count) using "R&G" is 75 to 150 with the best day being 224. He has been a proud "staff" member of www.crowbusters.com since June 27, 2002! Double thank you..
Skip also takes advantage of two North Carolina crops that crows love--pecans and peanuts. Using a "feeding" set-up" that often last more than half a day, the FOXPRO is indispensible given the clarity of the sounds and how long it continues to call on one set of batteries! His best day over pecans/peanuts: 356. His lifetime total for crows is near 90,000 with some 8,000 taken with a rifle.
He served in the U.S. Army from 1966-72 and was trained as a Medic at Ft. Sam Houston, Texas. After two years as a Medic he was selected by the 3rd Army Rifle Team and ultimately to the "All-Army Rifle Team" from 1969-72, attended the National Matches at Camp Perry as well as rifle matches all over the country using the "match" M-14. Skip earned the NRA "high power" rifle designation of Lifetime Master. He is also a member of the National Sporting Clay Association and is classified as an "AA" competitor. Since 2002, he added prairie dogs to his list of targets traveling to the Dakota's 2 or 3 times a year to help ranchers with their rodent populations.
Skip has shot doves in Argentina, crows, Jackdaws and Wood Pigeons in England, Sharp tailed Grouse and Hungarian Partridges in Canada and rats in the city dump where he grew up in North Carolina. Meeting and making lifetime acquaintances with fellow hunters during these travels was and is a reward that keeps on giving. He is excited to be added to the FOXPRO Field Staff and is eager to share his knowledge of the pursuit of "Br'er" Crow.