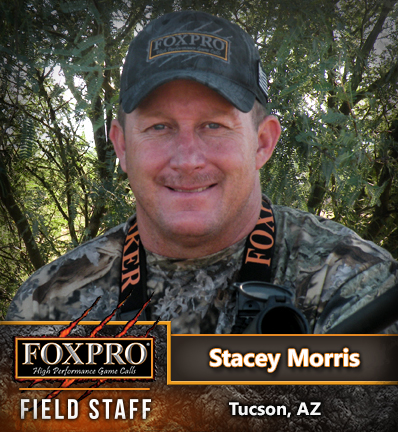 Stacey Morris grew up in southern New Mexico. He currently resides in Tucson, Arizona with his wife Sarah and children. As a young boy of the age 7, his love for the outdoors developed while calling and trapping predators with his father Dwayne and two siblings, Doug and Ryan. Spending countless hours running trap lines off horseback and by vehicle, he soon learned priceless techniques on how to locate, trap and call predators. This knowledge would serve him well over the next 38 years as he provided predator control on family ranches, as well as ranches throughout New Mexico and Arizona.
At age 13, he teamed up with his father and started hunting coyote calling contest all over the southwest. As Stacey's own talents for calling coyotes grew, he was met with great success, winning a multitude of contests around New Mexico and Arizona. In 2008, he purchased his first FOXPRO unit and that FX3 would forever change the way he calls coyotes. In 2009, he received his CS24 from FOXPRO and the next week he and his dad placed 2nd in the 2009 World Coyote Calling Championships and 1st Father and Son. Since then, that same CS24 has been a vital part of his success and calling arsenal. From 2009 to present he has won numerous contests, as well as placing 6th in the 2014 World Coyote Calling Championship and placing in the top 20 on several occasions.
Stacey is proud to be a member of the FOXPRO extended family and he brings a wealth of predator calling and trapping experience and a refined perspective on predator hunting.